Kentucky--Journeying Through the State in Your Wheelchair
We all know Kentucky for its bourbon and Derby, but what most don't know is the state is filled with fun,
fascinating wheelchair accessible attractions!
Kentucky Bourbon Trail, KY
Did you know that 95% of all bourbon is distilled, aged, and bottled in
Kentucky
? The only distilled spirits the
US is known for producing is bourbon--also known as "America's Native Spirit." Take a trip on the Kentucky Bourbon
Trail and stop at six of Kentucky's distilleries, including Maker's Mark, Jim Beam, Woodford Reserve, Wild Turkey,
and Evan Williams. Learn how bourbon is produced, view the facilities, see magnificent views from some of the
facilities, and enjoy bourbon samples.
Kentucky Distillers' Association members make every effort to comply with building code requirements. Most of the
distilleries are wheelchair accessible, but it's best to contact the facilities you plan on visiting beforehand to
inquire about specific accessibility questions.
Churchill Downs, Louisville
Churchill Downs is home to the Kentucky Derby and is one of the world's most legendary thoroughbred racetracks.
Since the track was founded in 1874, some of the nation's top thoroughbreds have competed there for some of the
largest purses in the horseracing world. Visit the track to get in on the excitement!
There is accessible seating and wheelchair assistance available. Visit
here
for more information.
International Bluegrass Music Museum, Owensboro
The International Blugrass Music Museum is the only museum in the world that is dedicated solely to bluegrass--
packed with bluegrass artifacts, history, recordings, history, culture, and art. Explore memory-filled exhibits,
experience interactive tours, music lessons, jam sessions, and educational programs. One thing is for sure--you'll
leave knowing all there is to know about bluegrass!
The museum is wheelchair accessible.
Belle Steamboat, Louisville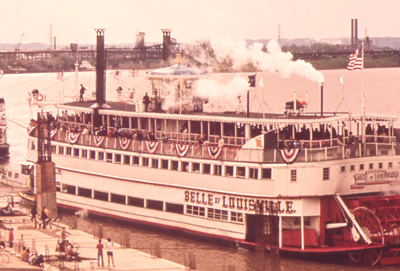 Take a ride on Belle, the oldest operating Mississippi River-style steamboat in the world. Built in 1914, she
began her career as a ferry and packet vessel (for freight work), and she later became an excursion boat. Her
paddlewheel with a steel hull draws only 5' of water, which makes her capable of traveling virtually every inland
waterway. Because of this, she is known as one of the most widely traveled river steamboats in the nation.
The Belle is wheelchair accessible on the dining level (lower level). If you aren't making reservations for lunch
or dinner, you must let the reservationist known that you are using a wheelchair so they can reserve a spot for you
to see the magnificent views of Louisville.
Kentucky Speedway, Sparta
Go see action-packed races like NASCAR Busch, Craftsman Truck, All Pro Series, ARCA, and IRL races at the 1,000-
acre raceway--featuring a 1.5 mile tri-oval asphalt track. Not only can you watch thrilling races--you can also camp,
dine at Outback Steakhouse, check out private Kentucky and Bluegrass Clubs, and purchase some souvenirs at the gift
shop!
The Kentucky Speedway has handicap accessible parking for your
wheelchair accessible
vehicle
. Accessible seating can be purchased at the Kentucky Speedway Ticket Office at 859-578-2300 or at
www.kentuckyspeedway.com
.
The Great American Dollhouse Museum, Danville
The Great American Dollhouse Museum is home to more than 200 unique dollhouses, miniature buildings, and room
boxes, complete with tiny dolls. The museum tells American social history through the miniature doll world. You'll
make your way through a timeline of US History from Native American to Colonial Old West, Southwest and modern eras,
and a fantasy land!
The Great American Dollhouse Museum is completely wheelchair accessible.
Abraham Lincoln Birthplace, Hodgenville
Come visit the first Lincoln Memorial where he was born and his character was shaped to lead the nation through
the Civil War. The memorial preserves a remake of the cabin of Lincoln's birth. Begin your adventure at the visitor
center, which houses many Lincoln family artifacts and a 15-minute film describing Lincoln's early years in Kentucky.
Follow the trail to Knob Creek, the creek that nearly took Lincoln's life.
Take the accessible "Pathway of a President" boardwalk to the Memorial building, where the symbolic cabin resides.
Most of Lincoln's birthplace is accessible with concrete paved sidewalks. Stop by the visitor center or the
website
for information.
Slugger Museum and Factory, Louisville
Take a tour of the Slugger Museum and Factory to see the world's largest baseball bat made of steel! You'll learn
and see how Louisville Slugger bats are made. Watch a film that touches base on the heart of the game of baseball,
hold bats that were actually used by some of the greatest hitters of all time, and view thousands of other nostalgic
baseball memorabilia. Guided tours last about 30 minutes, and at the end of the tour you'll receive a miniature
souvenir bat!
The museum and factory are handicap accessible.
Fourth Street, Louisville
Located in the heart of historic downtown is Louisville's Fourth Street--Kentucky's premier dining, entertainment,
and retail destination. Top attractions include the Gordon Biersch Brewery Restaurant, the world's first Maker's Mark
Bourbon House and Lounge, Howl at the Moon, and lots of other nightclubs and restaurants. Visit Fourth Street for a
family afternoon or a night out on the town.
There is wheelchair accessibility.
The National Corvette Museum, Bowling Green
Check out the National Corvette Museum to see where every corvette is made. The 115,000 sq. ft facility houses
more than 70 Corvette models, thousands of relevant photos, movies, videos, advertisements, scale models, and rare
Corvette memorabilia. You'll see a variety of Corvettes, from classics, one-of-a-kind prototypes, and racetrack
champions to modern-day wonders! Stop by the Corvette Store to browse apparel, collectibles, home and gift items. If
you're a Corvette fan, you'll love the National Corvette Museum!
The museum is completely wheelchair accessible, and wheelchairs are available at the admissions counter.
You'll have to visit "The Bluegrass State" to find out for yourself if the grass is really blue
and
just
how many wheelchair accessible attractions
Kentucky
has to explore!