Washington State Wheelchair Travel
The state of Washington is known as the "Evergreen State" for a reason. It's a naturally beautiful state with a variety of different places to visit; from exciting outdoor activities to a world-famous market, you're sure to have much to do, and all these attractions listed below are wheelchair accessible!
Space Needle, Seattle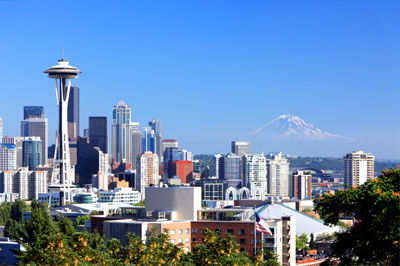 To see the best view of Seattle, visit the 605-ft. tall Space Needle tower. Built in 1962, it quickly became the symbol of Seattle and a recognized structure throughout the world. Get ready for a stomach-testing elevator ride up to the top of the tower where the observation deck is located. Find Swarovski telescopes around the deck to see miles away, and peruse their accompanying illustrations featuring descriptive data and trivia about what you're seeing.
Dine at the rotating SkyCity restaurant and enjoy the amazing 360-degree view of the city! Try SkyCity's famous dessert, Lunar Orbiter, which has been served since 1962. If you do choose to dine at SkyCity, the elevator ride and the observation deck are free of charge. The restaurant does allow casual attire; however, clothing must be neat and presentable (tank tops or muscle-t shirts are prohibited.)
Both SkyCity and the observation deck are wheelchair accessible!
Museum of Glass, Tacoma
This glass museum is packed with contemporary glass art pieces. The Museum of Glass is also the home of the world's largest Hot Shop, where you can watch the artists as they create their molten-glass masterpieces. The Hot Shop is located inside a 90-foot stainless-steel cone. The outdoor plaza features evocative glass sculptures that are placed in or near pools of water.
Don't miss the Chihuly Bridge of Glass; the bridge is a 500-foot-long pedestrian overpass that links the museum to downtown Tacoma. The bridge consists of three distinct installations--the Seaform Pavilion is an astonishing ceiling made of 2,364 glass objects. The glass art pieces are suspended in midair and emphasized by natural light. The Crystal Tower rises forty feet above the bridge deck and is illuminated from below. The Venetian Wall displays 109 sculptures--some of the displays are among the largest blown-glass works in the history of glass blowing.
While exploring the museum visit the Choripan by Asado, the museum's café operated by X Group Restaurants and Catering. The menu has a selection of meat to be made into a sandwich, or served in a bowl with braised quinoa, or in a mixed green salad. The menu also features decadent pastries and desserts. Pop into the museum store, where you'll find handmade glass, ceramic and blown-glass art pieces, as well as fine jewelry and toys for children.
The Museum of Glass is handicap accessible. The glass elevator allows easy access to the museum entrance. Wheelchairs are available for loan and are free of charge.
Woodland Park Zoo, Seattle
The Woodland Park Zoo is conveniently located just minutes away from downtown Seattle, an easy drive in your
wheelchair van
. The zoo's 92 acres of wildlife are alive with more than 1,000 animals, 300 different species, and award-winning exhibits. The species vary from tiny insects to the largest mammal, the African elephant. A percentage of every dollar you spend at the zoo goes towards animal conservation projects around the world. For an extra fee you can feed penguins and birds! Meet animals up close, enjoy a puppet show, and help create a play space for an animal. The zoo has many activities for children and adults!
All parts of the zoo are wheelchair accessible, including the two stores and restaurants. Most importantly, don't forget that when you visit the zoo, you're helping save wildlife!
Museum of Flight, Seattle
This museum is one of the largest non-profit air and space museums in the world. The museum's collection of historic air and spacecraft exceeds 150 pieces. You'll see the Red Barn, which is the original manufacturing facility of The Boeing Co. (commercial airplanes). The museum's aviation and space library archive is the largest on the West Coast. Their library of textual resources explains the technical side of air and spacecraft systems, among other things.
The Airpark is home to America's first jet Air Force One, the first 747 and the original 737, a Boeing 727, the sleek Concorde, and a Lockheed Super-G Constellation. (The names might not mean anything to you, but the aircraft are still fun to see!) The 15,500-sq. ft. Charles Simonyi Space Gallery includes stories from visionaries, designers, pilots, and crews of space-flight.
Explore the three-story, 58,000-square-foot J. Elroy McCaw Personal Courage Wing. Along with many exhibits are twenty-eight World War I and World War II fighter planes. In the T.A. Wilson Great Gallery visitors look up to see 20 suspended aircraft located in a six-story glass and steel structure. Before you leave visit the museum's Flight Store, where you can find flight-related gifts. And yes, the museum is wheelchair accessible!
Pike Place Market, Seattle
The market is known as "The Soul of Seattle" and began in 1907. Eight farmers brought their wagons and set up the market on First Avenue and Pike Street. The idea originally sprouted from Thomas Revelle, who was tired of overpaying for produce. He suggested a market where the producers could sell their merchandise directly to the consumers--and that is exactly what Pike Place Market became and is to this day.
Today the Pike Place Market is internationally known as America's premier farmers' market. There are more than 200 year-round commercial businesses, 190 craftspeople and approximately 100 farmers who rent table space, 240 street performers and musicians, and more than 300 apartment units. With more than 10 million visitors a year, the market is definitely something you don't want to miss.
Pike Place is wheelchair accessible.
Hiram M. Chittenden Locks and Carl S. English Jr. Botanical Garden, Seattle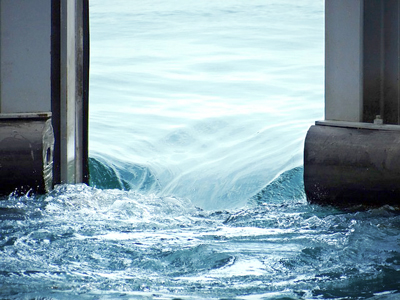 Yes, these are two different attractions, but they can be enjoyed within the same trip. First check out Hiram M. Chittenden Locks (also known as the Ballard Locks).
The locks effectively prevent Puget Sound's salt water from mixing with the lakes' fresh water. You can watch pricey yachts and fishing boats alike travel to and from Puget Sound and Lakes Washington and Union.
Be sure to see the fish ladder, which was built to let salmon pass to and from fresh and salt water. Visitors observe the salmon's progress through glass windows in a subterranean viewing room.
After visiting the locks, head over to see Carl S. English Jr. Botanical Garden, where you'll come upon more than 500 different species and 1,500 varieties of plants.
If you visit during the summer, you'll hear free concerts--often jazz bands and Dixieland bands--on the lawn of the locks beginning at 2pm.
The gardens are rather modest, but definitely make the area delightful nonetheless. Both the Hiram M. Chittenden Locks and Carl S. English Jr. Botanical Garden are wheelchair accessible.
Point Defiance Zoo and Aquarium, Tacoma
Once again, get two great attractions in one if you visit the Point Defiance Zoo and Aquarium. It's the only zoo and aquarium combination in the Northwest. Explore an array of animals and sea creatures all while experiencing magnificent views of Puget Sound, Mount Rainier, and the Olympic Mountains.
Enjoy the Wild Wonders Outdoor Theater, where you can get up close and personal with a bald eagle, aardvark, a beaver, and many more animals! Visit the Arctic tundra to observe polar bears swimming or come face-to-face with them in the downstairs area. The exhibit earned the 1982 Exhibit Achievement Award from the American Zoo and Aquarium Association as the "Best New Exhibit" of the year, and to this day is among the best in the world. There is also a Marine Discovery Center, where you can touch sea stars and sea urchins, watch a squid dissection, try on a costume, make a fun art project, and become educated on how to protect marine critters. The Budgie Buddies exhibit (budgies are brightly-colored Australian birds) features more than 100 birds; you can walk through the exhibit and feed them with seed sticks.
All restrooms, exhibit areas, restaurants, and gift shops are wheelchair accessible. There are also elevators where stairs are necessary to experience different viewing points and exhibits.
Chinatown-International District, Seattle
This is the only place in America where Chinese, Filipino, Japanese, Vietnamese, and Southeast Asians live and work together. The variety of cultures makes this a magnificent place to see Asian art and history--not to mention the assortment of international restaurants! There are also many street-level retail shops to check out, as well as the Eastern-influenced architecture.
While in the Chinatown district, visit the Wing Luke Asian Museum. The museum was founded by Wing Luke in his desire to preserve Chinese and Asian culture and traditions. A historic Chinatown hotel is included in the museum and is where many immigrants first found refuge. It is our nation's only museum completely devoted to the Asian Pacific American experience.
And yes, most of Chinatown-International District is wheelchair accessible, including the Wing Luke Asian Museum.
Olympic National Park, Uninc Mason County
This is the place to be in the state of Washington if you want to see the surplus of scenic views, from extraordinary mountains to meadows made of wildflowers. The Olympic National Park also contains some of the largest remnants of ancient forests left in the country!
The only issue you might have when visiting the park is deciding what to explore! The Olympic National Park is three parks in one and covers three major ecosystems and more than a million acres! Visitors recommend starting your adventure at the Visitor Center for basic information that will be extremely helpful. Check out the park's mileage map so you can determine the distance from each point of the park you'd like to see to another. Choose from numerous trails and other opportunities to experience the wild outdoors! Phone-based audio tours are also available.
To check out the spots that are wheelchair accessible, go to
Olympic National Park's Accessibility
. Remember that it's best and more fun to have a companion with you while seeing these awesome sights!
Pioneer Square, Seattle
Pioneer Square is known as the "first neighborhood" of Seattle and is uniquely designed with Renaissance Revival architecture. The 19th century district covers 88 acres and has an endless amount of cool activities. For starters, there are lots of tours, which include spooky ghost tours! Along with art galleries, museums, a waterfall garden, unique shops, delicious cuisine, and cute boutiques, you can experience exciting night life activities and so much more!
Most places are wheelchair accessible. However, certain tours (especially underground tours) might be a bit difficult to navigate due to tight spaces, etc. Depending on which tours interest you, it might be best to call ahead and inquire about accessibility.
Washington State has sensational scenery and a great time awaiting you. You'll find your fill of wheelchair accessible attractions! It's no wonder an eclectic mix of residents and tourists can be found in
Washington
--from Bill Gates to Big Foot, there's something for everyone to enjoy!