New Mexico's Wheelchair Accessible Wonders
When you visit, you'll understand why New Mexico is called "The Land of Enchantment." Its stunning natural beauty can be seen in caverns, mountains, mesas, deserts, and canyons, with a climate that practically guarantees you won't get rained out on your
New Mexico
vacation. Famed artist Georgia O'Keeffe, who spent many seasons in Sante Fe and Taos, was compelled to captured the breathtaking beauty of the state on canvas. If you can make it during early autumn, you can take a bite of the world's largest enchilada at the annual, three-day "Whole Enchilada Fiesta" in Las Cruces. Besides authentic southwestern cooking, there's much for the wheelchair traveler to enjoy!
New Mexico Museum of Space History, Alamagordo
One of the National Aeronautics and Space Administration's back-up landing sites for the space shuttle is White Sands, NM, so the state has been an active player in exploring the final frontier for decades. The wonderfully accessible New Mexico Museum of Space History is more than just awesome exhibits—you'll also have access to the International Space Hall of Fame, an IMAX theater and planetarium, the Astronaut Memorial Garden, and other spacy activities. If you'd like to see a real moon rock up close and personal or learn how a space toilet works, here's where you want to be!
New Mexico State Capitol, Sante Fe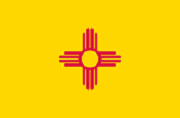 So
not
what you'd expect a state capitol building to look like, New Mexico's seat of government is the only round one in the United States. In fact, it's called the Roundhouse—and it doesn't have a dome, but it does have its own art collection, with new works added continuously. The building was designed to resemble the Zia sun symbol (shown in the photo) and blend with its surroundings. A rotunda in the center of the building is 49 ft. in diameter and 60 ft. high, spanning the second, third and fourth floors (the first floor is underground.) Made of travertine marble native to the state, the rotunda is inlaid with a turquose and brass mosaic of the Great Seal of New Mexico. Surrounding the building is a lush garden with 100+ varieties of plants, and statues of native Pueblo people in activities like hunting and carrying pottery.
Harrell House of of Natural Oddities and Bug Museum, Sante Fe
Meteors, fossils, and bugs! Oh, my! To explain why this "odd" attraction made it into our list of New Mexico's top ten wheelchair accessible attractions, here are some TripAdvisor.com reviews by visitors: "Way more interesting than Georgia O'Keeffe!" "Unexpected and wonderful experience!" "Mind-blowing collection!" "More than bugs—this is a must for inquiring minds!!!" How can you pass up raves like that? Harrel House showcases one of the finest collections of mounted insects, arachnids and other arthropods from around the world. Curators of the collections want to share their affection for nature and science, introducing you to the weird, the odd, the amazing world you rarely, if ever, meet on your life's journey. Live creatures, meteorite chunks, megalogdon teeth are also part of the fun. Yes, the place is bugged...
High Road to Taos
You may want to rent a
minivan equipped for wheelchair access
to make this drive, and it would be well worth it! Take this route only if you're not in a hurry to get from Sante Fe to Taos, NM, because the scenery will definitely draw your attention. You'll be taken through an actual remnant of Old Spain, which can be seen in the religion, history, architecture, and people you encounter along the way. On the 52-mile ride, you'll pass panoramic beauty that includes ancient Indian pueblo villages (
pueblo
is Spanish for
town
,) artisans' shops, Spanish-American villages, natural wonders that resemble Bryce Canyon in Utah, and high blue sky. The artwork and craftsmanship you'll encounter when you stop in these villages will be unforgettable. Take the ride!
Taos
The town of Taos dates back to August 29, 1540, when part of Spanish explorer Francisco de Coronado's expedition found their way to the Taos Valley. Capitan [sic] Hernando Alvarado and his men met peacefully with the Tiwa Indians, who had lived there for centuries. Since then, Taos has become a diverse community, many of whom are artists and artisans. The Millicent Rogers Museum contains more than a dozen galleries featuring around 5,000 pieces of Native American and Hispanic art. Not far from the town is Taos Pueblo, the only living Native American community designated both a National Historic Landmark and a World Heritage Site by UNESCO. The multi-storied adobe buildings have been inhabited continuously for more than 1000 years. If you're an art or history aficionado, you'll love this place!
Indian Pueblo Cultural Center, Albuquerque
Nineteen pueblo villages line the roads between Taos and Albuquerque, and you can learn about all of them at this center dedicated to preserving and perpetuating Pueblo culture, showcasing the accomplishments and evolving history of the Pueblo people of New Mexico. The museum features exhibits depicting Pueblos in various time periods, including contemporary artwork, pottery, jewelry, and other crafts from all 19 Pueblos. Among the most enthralling features of the museum are the magnificent murals, some of which were painted directly on the museum's stucco walls, all by Pueblo artists. Their size will impress you, the colors are stunning, and the artisanship is extraordinary. You'll also be treated to Native dances by dance groups from the 19 Pueblos. Immerse yourself in an ancient culture that continues to make its mark on the world!
Sandia Peak Tramway, Albuquerque
Like all the attractions we recommend, the Sandia Peak Tramway is wheelchair accessible, and you'll marvel at the scenery (which their web site says "steals the show") as you ride to the top of Sandia Peak on the world's third-longest tramway span. The Tramway was voted one of the 100 Best Bird's Eye Views by Reader's Digest. Take the tram at sunset to see spectacular, rich-hued deserts skies as you make your way to the observation deck 10,378 feet up. There's even a restaurant called High Finance on top of the peak for your dining enjoyment. (You'll need a reservation.) It's takes about 15 minutes for the Tram to ascend 4,000 feet, during which you may catch a glimpse of eagles, mule deer, black bear, other animals native to the region, and evidence of volcanic activity. When Tram staff at the top of the peak say "hi", it's both a greeting
and
a statement of fact!
Old Town Albuquerque, Albuquerque
The historic old town of Albuquerque, considered the "heart of Albuquerque," was founded in 1706, with 10 blocks of adobe buildings centered around the Plaza. From what were homes, shops, and government offices in the early days are now restaurants, art galleries, and yes, shops that maintain the Pueblo-Spanish-style architecture—softly contoured adobe walls and flat roofs. long porches and benches for visitors, and dramatic desert landscaping. You'll find five museums in close proximity: The Albuquerque Museum of Art & History, The New Mexico Museum of Natural History & Science, The Turquoise Museum, The Rattlesnake Museum, and the Explora Science Center. Famed San Felipe de Neri Church, built in 1706, is usually open to visitors, and live entertainment livens up the Plaza Wednesday through Sunday in spring, summer, and autumn. As you explore, you might even meet folks whose ancestors founded the town!
White Sands Missile Range Museum, Las Cruces
Free admission and more missiles than you can imagine! The inside of the museum houses historic technology used to advance missle science over the decades, and the outside is called Missile Park, where you'll see and learn about big missiles, small missiles, and everything in between, like how these missiles are deployed—and why. If you're a military enthusiast or simply would like to see what goes on at a U.S. missile-testing range, here's your opportunity. They do have a gift shop, though it's not likely you'll be taking any missiles home as souveniers.
If you visit the museum, you might also want to take in White Sands National Monument, which is less than an hour's drive away. Not so much a "monument" as it is a national park, White Sands is actually a desert, not of sand, but of gleaming white gypsum crystals, and it was designated a "national monument" in 1933 to preserve its natural beauty.
No Strings Theatre Company, Las Cruces
Not your typical performance venue, No Strings Theatre offers the community its own stage for creativity, presenting contemporary and little-known works overlooked by the city's other theater companies, helping local playwrights develop new work, and focusing on less conventional forms of theater like improvisation, performance art, and puppetry arts. That said, they also entertain audiences with celebrated musicals and plays like
The Fantasticks, The Importance of Being Earnest, Steel Magnolias
, and other classics. Now that you recognize the passion and proficiency for art in many of New Mexico's cities and towns, you won't be surprised to learn there's a gallery in the lobby of this wheelchair accessible theater, showcasing local artists. Check their web site ahead of time for performances scheduled during your visit.
The Land of Enchantment has become a creative Mecca for native New Mexicans as well as artists and artisans from around the world. What is it about the state that sparks imagination and inspires art and craftsmanship in a way that only a few places on the planet can? You'll have to visit and find out for yourself—New Mexico's wheelchair accessible wonders are waiting.