Missouri: Accessible Getaways in "The Gateway to the West"
The "Show Me" State would love to show
you
an awesome accessible vacation! Missouri has what it takes to show you a good time. After all, this is the state where iced tea was first served (1904,) the first successful parachute jump from a moving plane took place (1912,) and where some of the world's best beer brews daily at the Anheuser Busch headquarters. While one of the most famous attractions in Missouri (the Gateway Arch in St. Louis) is not accessible (yet!), there are plenty of other marvels in
Missouri
worth a visit. Here are just a few!
American Jazz Museum, Kansas City
World-famous for its storied jazz history, Kansas City is the logical location for the American Jazz Museum, and jazz aficionados will not want to miss breezing through the golden age of Kansas City jazz (late 1920s to mid-1940s,) with the coolest of cats. Find your favorites among revered names in KC jazz like Count Basie, Charlie "Bird" Parker, Claude "Fiddler" Williams, and Pat Metheny. Applauded as an "interactive paradise" by the NY Times, the museum's exhibits include listening stations, touch-screen interactives, and custom mixing boards. You'll see album art, prized sheet music, one of Louis Armstrong's trumpets, a sequined gown worn by Ella Fitzgerald, and other artifacts. Best of all, in the museum a nightclub called the Blue Room offers live jazz five nights a week. Hot, hip—and accessible!
The Starlight Theater, Kansas City
There were once 39 self-producing theaters in the U.S., including the Starlight. Today, the Starlight Theater is one of only three that remain. At this outstanding, wheelchair-accessible theater, audiences are treated to concerts and musical theater under the stars. Concert performers span decades
and
music genres; recent guests include James Taylor, Widespread Panic, Willie Nelson and Alison Krauss, Earth, Wind & Fire, Backstreet Boys, Chicago and REO Speedwagon. The Starlight's past Broadway offerings include The Sound of Music, the Blue Man Group, and Joseph and the Amazing Technicolor Dreamcoat. Concession stands take care of your hunger and thirst, and the festive atmosphere is free for all. Check their Web site to see your choices on the dates you plan to visit, and enjoy the show!
St. Louis Zoo, St. Louis
With more than 18,000 animals and 100 years' experience behind it, the St. Louis Zoo gets it right, and you'll have access to one of the most amazing zoos on the planet. The Zoo, famous for its modern habitats, spectacular exhibits and shows, and many taste-tempting cafes, is divided into zones: at the River's Edge, elephants play, cheetahs dash across a dry plain, and hyenas laugh at all the fun; penguins, bears, and great apes hang out in The Wild; Discovery Corner lets kids (and adults!) pet bunnies and follow a butterfly in flight; head to Historic Hill to see monkeys, birds, and reptiles; Red Rocks is home to lions, tigers, zebras, giraffes, and more in natural settings; finally, Lakeside Crossing lies in the center of the zones with snacks and souvenirs to complete your Zoo experience. Yes, it's grrrrrrreat!
Missouri Botanical Garden, St. Louis
There hasn't been a word invented yet to describe the jaw-dropping beauty of this Midwest botanical garden. Visitors have said on TripAdvisor.com that it's "one of the best botanical gardens in the world." If you're looking for accessible eye candy, the Missouri Botanical Garden is a must-see. As you'd imagine, there's a variety of gardens on 79 acres. They have not one, but more than 17 formal gardens, including a sensory garden designed to engage all the senses. Along with the formal gardens, several gorgeous international gardens celebrate the flora of Japan, Bavaria, England, China, Germany, and the Ottoman Empire. You'll find delicious, dining options on the grounds, and the souvenir shop sells vintage furniture, artwork, jewelry, and more. When you want to stop and smell the roses, do it here!
St. Louis Science Center, St. Louis
Besides "accessible," what's the best thing an attraction can be? If you said "free," you'll probably want to stop at the St. Louis Science Center! Cool science demonstrations happen all the time in intriguing exhibits like the Life Science Lab, Discovery Room, Cyberville, the Human Adventure, Experience Energy, and, yes, more. The five-storeys-high OMNIMAX Theater takes you on a "truly immersive sight and sound film experience, and the planetarium shows, including one during which you experience flight, are, well, out of this world.There are three places in the center for dining, and you can have an interactive learning experience when you "Build-A-Dino." You know you want to! Curious kids
and
adults will have a blast here!
Titanic Museum, Branson
Branson, MO is a booming entertainment capital in the Midwest, with casinos, top-tier concerts and theatrical performances, and, truly, too much to do in just one day. For those who have been captivated by the story of the legendary ship Titanic, this is one accessible Branson attraction you'll want to take in. There's a built-to-scale recreation of the spectacular, turn-of-the-century grand staircase (featured prominently in James Cameron's film
Titanic
,) a life boat, some real artifacts and replicas of others, several interactive exhibits, and you'll hear interviews with several survivors who describe their experience. As long as there are no icebergs in the area, you're sure to enjoy smooth sailing!
Branson Scenic Railway, Branson
This train is bound for a glorious, sentimental journey through the rustic Ozark foothills, and you can board in Branson. The restored 1940-1950 rail cars are equipped for wheelchair accessibility, so you can enjoy the beauty of the region and the brilliantly restored and refurbished cars. Dinner trains run on Saturdays May through September, though continental breakfasts, lunches, and concessions are available anytime. If you're planning a winter vacation in Missouri, the Branson Scenic Railway turns into the Polar Express during the holidays! The trip is one hour and forty-five minutes through tunnels, over trestles and into Missouri's wilderness. Check their web site for choo-choo details!
Showboat Branson Belle, Branson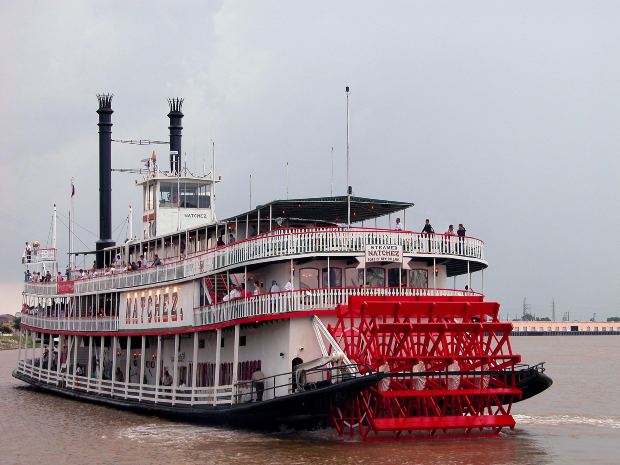 Take a two-hour cruise on picturesque Table Rock Lake, enjoy a three-course meal, and be entertained by a variety production that features music, comedy, magic, and more. The wheelchair-accessible showboat was fashioned after the magnificent showboats of the 1800s to revive the spirit of adventure, luxurious travel, and electrifying entertainment, and the Branson Belle delivers. When you're not dining or watching the show, you'll see gorgeous panoramic views of the lush Ozark mountains. Interesting story: When the showboat was launched in 1994 from the lakeside shipyard, they used two tons of bananas as a lubricant for the nine-second trip into the water. The Branson Belle has made a big splash ever since!
Fantastic Caverns, Springfield
You may be surprised to know that Missouri is also called The Cave State, with almost 6,400 caves inside her borders. Fantastic Caverns is billed as "America's Only Ride-Thru-Cave," and they provide the ride! The caverns were discovered in 1862 by the dog of an Ozarks farmer. His pooch pawed through an entrance. Exploration began five years later, and today, this family-owned business shares with visitors these fantastic caverns formed by an ancient underground river. You'll be surrounded by stalactites and stalagmites as you tour the cave in jeep-drawn trams, at least one of which is wheelchair accessible. Even in the heat of summer, the cavern remains a cool 60 degrees. Sounds like the entire experience is cool!
Ragtag Cinema, Columbia
Simply put, Ragtag Cinema shows independent arthouse films, current and archival, and the venue is about a minute away from the campus of the University of Missouri-Columbia. As long as you're there, you might want to explore the campus before heading to the theater. There are two theaters at Ragtag—the Big Theater seats 130 people in a typical theater-seating arrangement, and the Little Theater, intimate and casual, seats 70 in movable couches and plush chairs on a flat floor. There's an in-house bakery, and, according to some visitors on TripAdvisor.com, "they have amazing cafe food." Expect to see a lot of locals, including college students, some of whom attend in costumes. It's a weird and wonderful way to watch a movie!
Your trip to Missouri promises more than enough accessible attractions to keep you busy and thoroughly entertained. Be sure to visit the Web sites for these attractions to get all the details as you plan your Missouri vacation. By the way, Kansas City has more miles of boulevards than Paris, France and more fountains than any other city except Rome, Italy. You don't want to miss Missouri!