Hello JP, Our van is doing good we are very happy with it. I love it so perfect for Everett with his scooter - in and out easily with no problem except we need to learn tying down the scooter in proper way. We'll be fine. I notice we miss a manual book that is not in the glove compartment. Hope we find one somewhere maybe at a wrecking yard. Bob is in NY on business since Saturday and I will fly today join him for a few days. We'll be home late Tuesday night, on the 12th. I got Farmers Insurance policy covered our van and deleted Passat. I hope they have send a copy to Carol. Thanks so much for everything and your patience with me in communication by e-mailing only. I was kinda worried about how to communicate with Doug but a friend of mine just happened to be at my house at the right time to help interpreting in sign language for me. I suppose Doug has told you about it. I'll send you some pictures by e-mail of Everett with our van one day. Sincerely, Helen F Salt Lake City, UT P.S. AMS Vans is a good name reasonable! Thank you.
Robert F
Wheelchair Accessible Vans
Considering shopping with AMS Vans? Check out just a few of our weekly special deals on New/Used and Used/Used Vans!
2019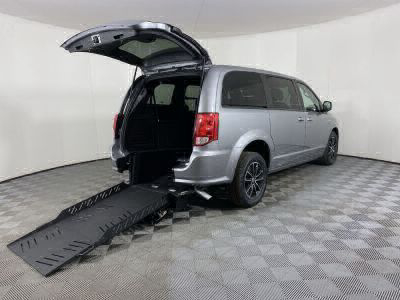 Dodge Grand Caravan GT
Revabilty Advantage Rear Entry Conversion
$36,499 $36,999
---
Stock #:

21030036

Mileage:

52,577 Miles

Color:

Silver

Ramp/Lift:

Rear Entry Long

Location:

Phoenix, AZ

Features:

N/A
2019
Dodge Grand Caravan SXT
AMS Vans Galaxy Conversion
$44,499 $44,999
---
Stock #:

21010211

Mileage:

36,327 Miles

Color:

Silver

Ramp/Lift:

Side Entry In-Floor Pwr

Location:

Call for Details

Features:

N/A
2020
Toyota Sienna XLE
VMI Northstar Conversion
$67,999 $68,499
---
Stock #:

20060382

Mileage:

2 Miles

Color:

Black

Ramp/Lift:

Side Entry In-Floor

Location:

Phoenix, AZ

Features:

N/A